Featured Work
Ghost Mug 2023

Paw Stirrers

Green Mushroom Mug 2023

Pink Mushroom Mug 2023

Blue Snack Bowl
A LITTLE ABOUT TCC
Tiny Cloud Ceramics is solely run by Akron native Mary Clark. They've dedicated their time to making one of a kind kitschy-cute functional wares. After graduating with a BFA in Ceramics at The University of Akrons' Myers School of Art, they've kept their artistic life going with regional craft shows and makers markets. They were named Cleveland Magazine's Best of Cleveland winner for "Best Coffee Mugs" in the 2016 and included in the Handcrafted Shopping Guide by the same publication in 2019. They make cups, vases, planters, and other functional wares that have a candy color scheme not seen often enough in ceramics. Their mugs feature doofy animals, harsh phrases, clouds, sparkles, and abstract shapes. These hyper-cute pieces mix kawaii influence and 50's-esque surface design in a unique way that is both fun and functional.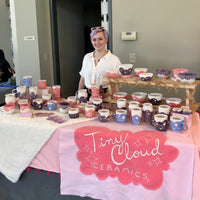 A Little About Process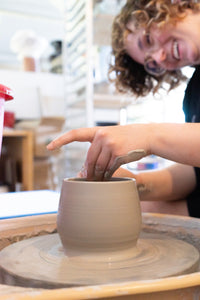 Handmade in Akron
All TCC work is thrown or sculpted with white stoneware in a small studio near downtown Akron.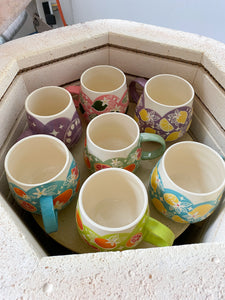 Candy Colors
Work is painted by hand in a variety of fun, opaque, candy colors using Speedball and Amaco underglazes.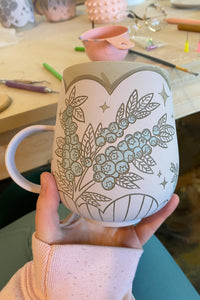 Sgraffito designs
All pieces are freehand carved with original designs before being bisqued and then glaze fired to cone 6